Policies & Procedures
---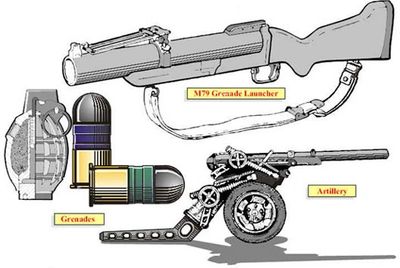 Policies & Procedures for SKIPS DEFENSE SOLUTIONS
Terms and Conditions
We do not accept trades as partial payments. All sales are final. All firearms sold can only be shipped to a Valid FFL holder. We cannot ship to certain international destinations. Optics and firearms that are defective are covered under all manufacturer's warranties. Dealing with the manufacturer directly will yield the quickest results.
Payments
On Returned Checks and Credit/Debit Card Chargebacks, you will be charged a $50.00 NSF or Chargeback Bank Fee. By purchasing online you accept to pay this fee in the event of an NSF or Chargeback. We accept Credit Cards and Debit cards. Credit/Debit Card Refunds take 10-15 days. We have no control over this. It may take less time but the turnaround time is 10-15 days.
Sales Tax
We are required to collect sales tax on all sales in Kentucky, and for Kentucky residents. If you are ordering online we are not required to collect Sales Tax for any other State.
Shipping and Returns
Shipping
All items will be shipped via Common Carrier, UPS, FEDEX, USPS, etc.
Returns
Returns will only be accepted for NON-FIREARM(S) merchandise in undamaged RETAIL packaging, found defective immediately upon receipt. SKIPS DEFENSE SOLUTIONS LLC will provide a replacement item (pending availability) of a similar type upon your prepaid shipping return after getting a RA Return Authorization number from us.
We do not claim any responsibility for items damaged in shipping. Once the shipper received your item, it is your item at that point. For items damaged in shipping, Users need to file a claim with the carrier not us.
If you receive a defective item, please immediately email the shop at skipmccall@skipsds.com to request a RA Return Authorization number.. Returns are at the discretion of SKIPS DEFENSE SOLUTIONS LLC.
All Returned items must be New in the same Undamaged Retail packaging. If the Retail packaging is damaged we will not issue a RA Return Authorization number. If you ship the package back and the Retail packaging is damaged we will not issue any refund and will require you to prepay for shipping back to you. If you do not prepay the shipping back to you for your item with the damaged Retail packaging, it will be considered Abandoned and disposed of within one (1) week or seven (7) days. Save yourself some money and heartache and do not return items with damaged Retail packaging.
VERY IMPORTANT- FIREARM(S) RETURNS!!
Please take your time to inspect all firearm(s) thoroughly BEFORE proceeding with the transfer. Once a new firearm(s) is transferred to you it is considered used, even if unfired. Consequently, we cannot provide a refund for firearm(s) once they have been transferred into your possession. Also, we DO NOT reimburse FFL transfer fees on returned items.
We do understand that some manufacturer defects may not be identifiable upon initial inspection. However, upon discovering a defect AFTER the transfer, the firearm(s) MUST be returned directly to the manufacturer for replacement or repair (in accordance with manufacturer's warranty policy).
By sending a defective firearm(s) directly to the manufacturer, you can avoid the unnecessary transfer fees of returning the firearm(s) to us through your local FFL dealer.
PLEASE DO NOT SEND DEFECTIVE FIREARM(S) DIRECTLY TO SKIPS DEFENSE SOLUTIONS LLC. Manufacturer repaired firearm(s) can be returned directly to YOU, the customer without additional FFL transfer or associated fees. However, if the manufacturer chooses to replace the firearm(s), the replacement firearm(s) must transfer through your local FFL dealer to document the replacement firearm(s) serial number.
ALL AMMUNITION AND AMMUNITION COMPONENTS SALES ARE FINAL
ALL ITEMS RETURNED UNDER A RA RETURN AUTHORIZATION NUMBER IS SUBJECT TO A 25% RESTOCKING FEE.
ALL RETURNS IN STORE ARE SUBJECT TO A 25% RESTOCKING FEE.
IF YOU CANNOT PASS A FBI/NICS BACKGROUND CHECK YOUR FIREARM(S) PURCHASED FROM US ARE SUBJECT TO A 25% RESTOCKING FEE, IF WE ALLOW THE FIREARM(S) TO BE RETURNED, WHICH IS AT OUR SOLE DISCRETION.
NO EXCEPTIONS.
THERE ARE NO REFUNDS ON TRANSFER FEES OR FBI/NICS FEES EVEN IF YOU CANNOT PASS THE FBI/NICS BACKGROUND CHECK.
IF YOU HAD A FIREARM(S) SENT TO THIS STORE FOR TRANSFER AND YOU CANNOT PASS THE FBI/NICS BACKGROUND CHECK YOU HAVE TO CONTACT THE FFL DEALER WHERE YOU PURCHASED THE FIREARM(S) AND MAKE ARRANGEMENTS WITH THEM FOR SHIPPING BACK TO THEM. I WILL PROVIDE THE PACKAGING AND SHIP WITH YOUR RETURN SHIPPING LABEL FOR A FEE.
THERE IS A FEE TO TRANSFER THE FIREARM(S) BACK TO THE DEALER THAT YOU ORIGINALLY PURCHASED FROM.
BY USING AND ORDERING FROM OUR SITE, YOU THE USER AGREES TO THESE TERMS
Discounts
Military, Masonic and LEO Discounts are 5% from MSRP, available with valid ID Card. Discounts do not apply to Special Sale Items, Price Matches, Already discounted items, Shipping/Freight, Taxes or Fees.
Out of state transfers
Please make sure that you can pass the NICS before you purchase and have a firearm shipped to a Valid out of state FFL Dealer. All out of state transfers must have the purchase price paid in full before an item can be shipped. There are No refunds for your inability to pass the FBI/NICS Background Check at your Valid FFL Dealer where you had the firearm shipped. Shipping and handling are fees above and beyond the sales price, of which, there are no refunds.
Transfer from out of state FFL Dealers
There is a transfer fee for delivering the firearm(s) to you once any legal requirements have been met per firearm for handguns, or handgun components and per firearm for long guns, or long gun components, and for SOT/NFA items. The fee is for EACH item that you have shipped to me, so to save money, ONLY SHIP what you want to pay a transfer fee on. Ship your accessories to yourself. Only the person in whose name the firearm was shipped in, may finalize the paperwork to pickup and transfer the firearm or component. No, a relative may not do it for you. Please don't ask. No refunds for your inability to pass the FBI/NICS Background Check.
Purchase Currency
All transactions must be completed in U.S. Dollars. We accept Credit/Debit Cards in person and you can use Paypal as well.
Shipping/Freight
All purchases must ship to the billing address unless a separate shipping address is stipulated on your PREPAID Purchase Order - NO EXCEPTIONS! Firearms can only ship to your Valid FFL Dealer or Authorized Governmental Entity. Buyer to obtain from the Valid FFL Dealer that they want the firearm shipped to, a copy of the Dealers Valid FFL and their email - or - have the Valid FFL Dealer email a copy of their license to: skipmccall@skipsds.com Shipping from us, will be by the most economical method. Please request a freight quote prior to ordering if required. All orders will be charged freight. Many of our products are HAZMAT and as such carry additional fees. Insurance to cover your purchase is an additional charge and will be added to protect your purchase. We want you to actually receive your purchase and enjoy it! Firearms sold by us are not an offer to ship the firearm to any jurisdiction where its sale is prohibited by law. Because of legal restrictions, some firearms may not be available for purchase in your location. Always have full knowledge of your State and Local Gun Laws before attempting to order or purchase a firearm.
Delivery
Delivery times are based on typical agency quantity requirements. Product Tier 1 (T1) items will ship within 7 business days, Tier 2 (T2) items within 24 business days. Tier 3 (T3) are ATF regulated items or special build items and are only shipped after receipt of required ATF approvals or manufacture, which is normally within 5 to 7 weeks of order placement. All orders are shipped complete. Should you require or request a partial shipment, there may be additional freight costs that would be incurred at the customers cost. HAZARDOUS SHIPPING RATES APPLY TO MOST PRODUCTS. Please call 502-931-3172 should you require a freight quote.
Orders
All in person, face to face orders require a 75% deposit of the MSRP before an order can be placed. Once placed the deposit is non refundable. All orders must be paid in full within three (3) days of your notification that your order has been placed. Special circumstances Must be brought to managements attention before the three (3) days have expired. Special circumstances are on a case by case basis and the ruling by management is final. By virtue of your placing an order you agree to abide by this policy. Items not paid in full and picked up will be placed into inventory and sold and your deposit will be lost. All online orders must be Paid in Full before they can be shipped. FET Exemption Certificates should accompany all orders, unless otherwise communicated by SKIPS DEFENSE SOLUTIONS. All orders placed without a FET Exemption Certificate will be charged Federal Excise Tax. No refunds for your inability to pass the FBI/NICS Background Check.
International Orders
Purchases sent outside the United States may be assessed local taxes, duties, VAT, Customs fees, etc. upon arrival. The shipping firm that delivers the package may likewise impose additional brokerage fees or other surcharges as part of the customs and tax process. The recipient is responsible for paying all duties, taxes, fees, and international costs. Please review your countries import laws and fees before placing your order. If a shipment is lost, abandoned or you refuse a shipment due to the local taxes or duties not being paid, SKIPS DEFENSE SOLUTIONS LLC will not issue you a refund for your order. Orders can be delayed due to verification or time of order being placed. Orders may be delivered in separate shipments. International shipments require a prepaid and cleared, deposited wire transfer prior to shipment under Incoterms (EXW) Ex Works.
Repairs
We are not doing any Gunsmith functions at this time. Please feel free to contact us to see if we have started doing any Gunsmith work.
Pricing
Pricing is subject to change with or without notice. If pricing changes, this does not constitute a refund to the buyer due to a sale or price reduction we initiated, regardless of when you purchased the item. Skips Defense Solutions does our best to price our products at market value. As the market changes so does our pricing. We are not obligated to honor a price that is in print or an error. We reserve the right to adjust product prices as dictated by the market.
Product Warranties
All new firearms and accessories are warranted by their respective manufacturers ONLY. All repair and replacement work will be honored by them. All firearms we sell are BRAND NEW IN BOX (unless otherwise stated) and HAVE FULL MANUFACTURERS WARRANTIES. We will work with each customer to ensure that they are able to take advantage of the manufacturer's warranty, but we do not warranty sales items ourselves. Ordnance, Chemical Munitions, Explosives, Optics and Firearms that are defective are covered under all manufacturer's warranties. Dealing with the manufacturer directly will yield the quickest results.
Disclaimer
We spend an enormous amount of time, energy and money in an attempt to keep abreast of state and local gun laws and restrict sales accordingly. However, with well over 20,000 laws on the books, new legislation being passed and no concise source for this information, this task is extremely difficult if not impossible.
It is the buyer's responsibility to ensure that you can legally purchase a firearm. No refunds given to buyer in the event they can not complete the transaction, or if the firearm is not transferable due to your inability to pass the FBI/NICS background check. We do not sell firearms, ammunition, and high capacity mags to the following locations: California (no hi cap mags, no ammunition), Maryland (no firearms, no hi cap mags, no ammunition), Connecticut (no firearms, no hi cap mags, no ammunition), Washington DC (no firearms, no hi cap mags, no ammunition), New Jersey (no firearms, no hi cap mags, no ammunition), New York (no firearms, no hi cap mags, no ammunition), Colorado (no hi cap mags) and Cook County, Illinois (no firearms, no hi cap mags, no ammunition). Locations are subject to change. The exception to the rules are Governmental Entities.
Thank you. We hope to have a long and lasting relationship with you as we service your firearms/ordnance needs.
KeOliver R. 'Skip' McCall, 33? AASR, PHA
Owner